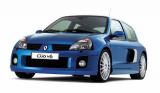 Clio V6 Sportscar Review

Reviews: Renault Clio V6

So it sounds like a sports car, handles like a sports car and performs like a sports carÖbut itís a hot hatch. Right! I know itís a Clio but it is certainly one with a difference! Gaping air-vents, wide stance and bold wheels give the Clio Sport a powerful and dynamic appearance. It is certainly sporty! The lines, arches and curves are all about maximising the aggressive look of the car, exterior and engine matched perfectly. Inside, the six CD changer might come in usefulÖif you decide not to listen to the roar of the V6 thatís just behind your ears instead.

Iíd love to hate the V6 (Iím more of an E-Type man myself) but I just canít, everything about it is exciting and vibrant. Ten years ago (if the term had been around) it would have seemed like the VW Golf was set to be king of the "hot hatch" road for all eternity, well not now.
All hale the new king of the hot hatches Ė Renault Clio V6, I bow down in awe.

Michael Carmichael (Best of The Best)

You can WIN your very own Clio V6 Sport with bestofthebest.co.uk

Previous Winners Comments:

Andreas Fuchs, winner of Sportscar Competition (L-197) It's the first time I have won anything in my life! It's great! I couldn't believe it when I got the phone call!

Trevor Huntman, winner of the Sportscar Competition (L-194) When I got the phone call I was amazed, I've never had the feeling of winning before.
I was on holiday and couldn't believe it. Absolutely fantastic. What a feeling. My luck has changed.

Fawn Lucas, joint winner of the Supercar Competition (SC-193) When you told me that I had won I wasn't convinced, thought you was joking as I wasn't the lucky type - still cant believe it now. I think that Best of the Best gives those people the chance to win big without stupid odds, and it proves if you take chances in life good things can be round the corner...thank you for making life so much easier for me.

Colin Richardson, joint winner of the Superbike Competition (SB-192) Only once I got of the phone I realised what had just happened. I couldn't believe it, me, winning something. I immediately phoned my girlfriend and she thought I was joking.

Andrew Stafford-Deitsch, joint winner of the Supercar Competition (SC-193) I bought the tickets because even my wife thought that the car was beautiful and the sales assistant who took my credit card details was particularly sweet-natured. When you called this morning I was very surprised as I never normally win anything, though when you said that I had won half the prize I only just supressed the urge to ask for the front half rather than the back! I'm delighted to have won and it certainly made for a pleasant first day back at work.

BUY TICKETS NOW!