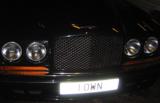 I OWN

Blog

Saturday 25th March 2006

So I bought some space on bobsmilliondollargamble.com Seems fair enough to me. $40 (less than £20 quid) and I had loads of hits. If I get some sales I'll buy some more.

So what's the deal since the The milliondollarhomepage.com? Pixel advertising gone mad. Buy and sell pixel advertising space. Cheap pixels, free pixels, pixels not for sale. You name it, someone has got it. Cool. I'm gonna start carpixels.com or something.


Blog

Tuesday 13th March 2006
Thought I'd set up this website reviewing the best sites selling tickets to win supercars. Problem is now I'm so busy and I got stumped after coming across bestofthebest.co.uk as they seem to have the market pretty much wrapped up. Its a great site, easy to use and generally has buy 2 get 1 free offers - which seems pretty good value to me (should you be able to afford that kind of money). The competitions are very limited in the time duration of each competition - so if you can afford them you stand an incredibly favorable chance of winning! Visit bestofthebest.co.uk
for more on this.

Meanwhile whilst doing some 'research' I came across a huge amount of car blog sites and funny car photo sites (some of them featured here)- You can find out more via my links page.